Hey there!
My name is Angels Ramis. This is me: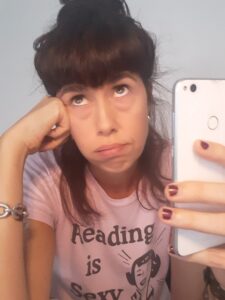 I know you were probably expecting your average resume /portfolio, but what sort of joyless Copywriter would I be if I simply attached a plain old PDF CV.
No, Mam. Not on my watch.
Instead, and in order to do my due diligence, here are a few facts you might find interesting as to my skills and experience:
– I finished my copywriting training with Javi Pastor in May 2019. I've been working as a freelance copywriter and translator ever since.
– During these +3 years, I haven't stopped reading and learning about persuasive writing, sales and creativity. Isra Bravo is my main inspiration when it comes to writing copy.

– Collaborating with Joan Marco, I have written a lot for hospitality businesses.
– I have also written for businesses as diverse as engineering companies, architecture studios, lawyer's offices, a bank, a winery or a dating site.
– In fact, if you look me up on the Internet, you'll see I've been targeting erotic businesses as of late. I'm sure this isn't much of a problem for you.
– I wrote an e-book on how to use copywriting techniques on dating apps profiles, which turned out to be a bestseller. I mean, it's selling alright.
– I'm used to writing web pages, blog posts, social media posts, landing pages, emails and ads.

– I LOVED the copy in your Post-Purchase Email seqüence. In fact, I think I even replied to one of the emails letting you know… Such a fan of Pakito 😆
– I like dancing, French fries and listening to other people's conversations.
– And, well, I seem to be quite fluent in English.
These Are A Few Of My Projects, For Clients And For Me:
Some Content On My (No Longer Available) Blog:
And Pretty Words From People I Have Worked With:
I was looking for someone to invigorate the content of my website, and Angels was the perfect choice. With an empathetic language, focused on benefits, she was able to connect with our customers and better convey the value of the Company. I absolutely recommend Angels.
Working with Angels has been enriching. At first, I thought she was adding words to the images, but the fact is we ended up putting images to her words. She is a great seducer, a word magician. I am very grateful to her and I highly recommend her.
It's a pleasure to work with Angels; we have been working together for nine years. Her will to add value and her quest for excellence are two of her standing qualities, and the reason why we trust her. She is a fast, accurate and creative translator and I recommend her to those who are looking for reliable and high-quality translations.
Well, this is it for now. I think there's enough copy here for you to evaluate my content creation skills.
But if you are craving for more, feel free to check my posts on Instagram or sign up for my Newsletter— where you'll slide down my e-book sales funnel. Just click here and enjoy the ride.

I hope you don't get bogged down with so much content made with love by yours truly.
And that it was fun to read.

Have a great day!
Angels