Hey Blanca!
My name is Angels Ramis, and I'm going to tell you a story.
(Excuse my manners, this is me):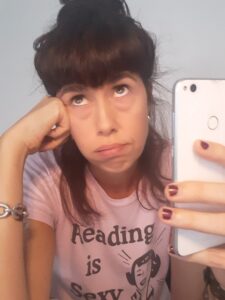 So one chilly evening, in October 2018, in the beautiful city Valencia, a not-so-young new mother was breastfeeding her baby on the couch while scrolling down her Facebook feed.
Out of the blue came an ad mentioning a «new profession» called copywriting. And without her knowing, that was the beginning of our hero's ride down a perfectly designed sales funnel.
Over time, that ride turned into a freelancing adventure featuring scary and challenging quests, at least for an amateur entrepreneur like herself. 
These quests implied scoring new clients, creating a personal brand, delivering good copy, dealing with clerical issues and beating the crap out The Impostor Sydrome pretty much on a daily basis.
The journey also involved lots of learning by mistaking, first-hand insights about the digital marketing ecosystem and loads of personal growth.
Easy-peasy 😉
Needless to say, that lady is me.
And as fun and the ride was, I'm ready to get off and face a new chapter of my professional journey.
Before I go on, let me show you some of my work.
Some Of My Client And Personal Projects
7 Facts You Might Find Interesting
-I finished my copywriting training with Javi Pastor in May 2019. I've been working as a freelance copywriter and translator ever since.
– During these 3+ years, I have continued learning and reading about persuasive writing, branding, communication and sales. I'm a curious, well-read person.
– Collaborating with Joan Marco, I have written a lot for hospitality businesses.
– I have also written for businesses as diverse as engineering companies, architecture studios, lawyer's offices, a bank, a winery or a dating site.
– As a side project, I'm growing an emerging community of followers in my newsletter. It's a fun community where I give dating and communication advice to people using dating apps. 

– I have created two digital products which I sell (quite alright) via email marketing.
– My community, though small, is really engaged. Mainly for three reasons: the value of my content, my personal branding, and the way I tell them stories.

– I like dancing, creative minds and french fries. I also think womanhood is the best thing after… well, womanhood.
Some Content I Wrote On a Previous Life
And Pretty Words From People I Have Worked With
I was looking for someone to invigorate the content of my website, and Angels was the perfect choice. With an empathetic language, focused on benefits, she was able to connect with our customers and better convey the value of the Company. I absolutely recommend Angels.
Working with Angels has been truly enriching. At first, I thought she was adding words to the images, but the fact is we ended up putting images to her words. She is a great seducer, a word magician. I am so grateful to her, I can't but recommend her.
It's a pleasure to work with Angels; we have been working together for nine years. Her will to add value and her quest for excellence are two of her standing qualities, and the reason why we trust her. She is a fast, accurate and creative translator and I recommend her to those who are looking for reliable and high-quality translations.